Hello Everyone!
Hope you are enjoying my writings!
This post is about
1st Maharashtra Convention Meet ( GuruBandhu Event )
Which is held at Pune ( Balewadi Stadium) DT: 21st Dec 2014
-_-_-_-_-_-_-_-_-_-_-_-_-_-_-_-_-_-_-_-_-_-_-_-_-_-_-_-_-_-_-
It was the bright sunny morning with sweet n charming cold breeze @balewadi stadium! Happie faces on early morning and that too on Sunday is the only thing which Art of Living volunteers and teachers can do. It was the Registration time, awesome badge (on which Guruji's Face was there) was given to all with the registration form on which so many types of Familiar, Useful, and important questions was there! Just after registration flavorsome breakfast was served to all devotees. Pohe and Upma on breakfast for a Sunday Morn makes the Day :P .
As I entered the hall I saw the huge beautifully but simply decorated Stage with big banner of Maharashtra convention meet and lots of chairs aligned perfectly! That's what Art of Living volunteers love, Simple but Awesome and Attractive. Satsang was started within no time (WE DON'T NEED ANY DRUGS OR DRINKS TO GET HIGH, SATSANG IS A MEGA BOOSTER FOR US) followed by GuruPooja : "Praying all the Gurus." GuruPooja was chanted by Malini Di, Seema Di, and Vinaya Hegde!
The most dynamic senior faculties of
The Art of Living, Saleel Ji Pulekar and Amit Ji Thanedar with Shubhangi Di
were the host of the Day. They were as usual super awesome and entertained the gatherers throughout the Convention! There amusing and humorous tone filled up the hearts of all Devotees!

Manishji consign everyone with his energetic Welcome Speech!
Folk Dance and Songs are always a high and anarchistic thing for us; an yes SSRVM
(
SRI
SRI
RAVISHANKAR
VIDYA
MANDIR
)
students sang an energetic song " Ude ga Amba Bai" , "Gondhal" is a traditional dance and song of State of 'Kings and Wisdom' : '
MAHARASHTRA'
.
Then after so many felicitations happens ( Felicitated members: Yezdi Uncle, KK ji, Kamal Shah Ji, Darshak Hathi Ji, Dinesh Ji, Vijay Hakay Ji, Swami Vaishampayan Ji etc.. )
I remembered Yezdi Uncle was asked to share some of his ordeals but not related to Guruji, first Kriya, Marriage; but as always he shared something new and amusing! I can't believe he started to share the story when he first fall in love ( FIRST GIRLFRIEND ) and the story was too compelling on its climax : the girl's father called him and insulted him just because he was not economically rich and from that day he decided to become someone big! ( n He is NOW ) , after this he also share that Our Villages are very poor we have to do something for it!
Then there happened the folk dance by SSRVM Pune's students! And that was quite fantastic one!
now it was the time for some projects discussions:
1. Happiness Centres : Rohit Sabrawal Ji
Transforming All Homes into ASHRAMS where anyone can come and meditate once in a week.
( GURUJI's Word: If only 1% of the population starts doing meditation then 99% will get its benefits )
2. Women and Children Empowerment Project : Purshottam Wagal Ji
Making all Women and Children and farmers of villages self sustained so that they will not be dependent on anyone further more.
( GURUJI's Word: Work for Women and Farmers in villages, reach out them )
Thenceforth Darshak Ji Hathi address everyone with full of enthusiasm, he started with yelling of Bharat Maata ki Jai, Vande Matara. He guided everybody for being a helping hand in all social projects like Swach Bharat Abhiyaan by honorable Prime Minister of India SHRI NARENDRA MODI ji. After that Prassanna Prabhu addressed the gatherers. It was followed by Song by ALAP (Music Institute of Art Of Living) .
It was the time Dinesh Bhaiya took up the Mic, he started fabulously guiding everyone about social networking, he also said that "Sewa hi Mewa h" and "Biggest sewa is rising someone's state of Mind" also "If you are attached to your Comforts you will not grow, be ready for HARDSHIP" .
finally Gurudev His Holiness SRI SRI RAVISHANKAR ji connected on Skype, as usual with full of love he asked everybody "Kese ho?? tum agar khush ho toh hi tum khushi baath sakte ho" and then said that "Work for Farmers, go village to village" also to his smartness he added "Kahi Chinta Karu Naka ( Don't Bother )".
Vijay ji Hakay announced VENUNAAD (4000 Flutist on one stage )event in Nasik on 12th Jan 2015, and invites everybody for the Big event!
few more Projects:
1. Swasth Maharashtra Mast Maharashtra :- Dr. Mule Ji
Living Well program for patients of Diabetes, BP etc. helps to attain certain Immunity to eliminate those diseases.
2. Free Schools :- Kedar Chaudhari Ji
Introduction of SSRVM (Sri Sri Ravishankar Vidya Mandir).


3. E-Learning :- Suresh Bedmutha Ji
Distribution of Computers and Tablets and Projectors in the tribal areas.
4. Sports and Matrimonial Project
(Must Read:- 25 Motor Bikes distributed to YuvaCharyas )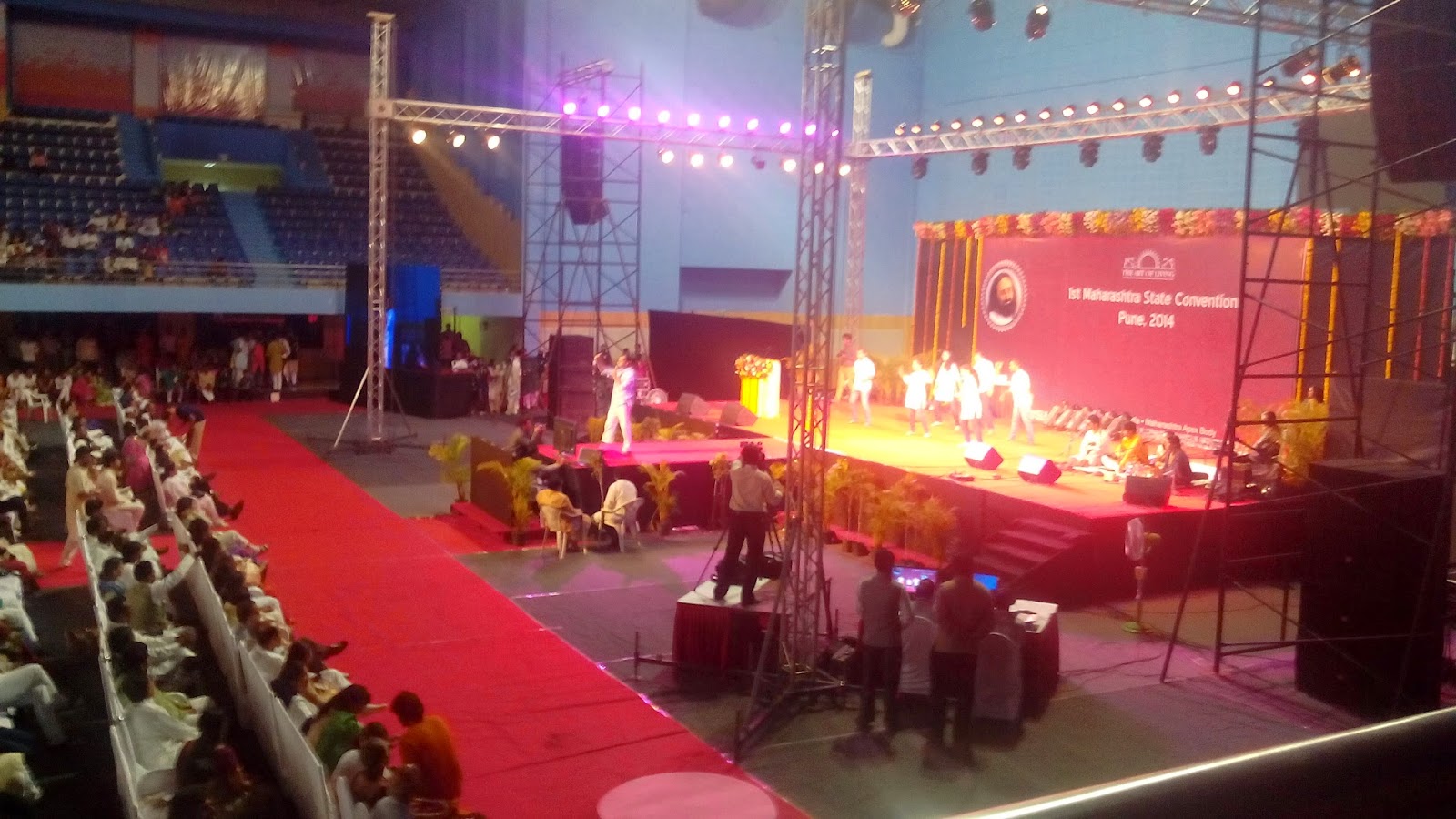 Then there was a Dance Performance by Chirag Agrawal and Team, it was really an amazing and sprightly performance, after that Chirag Ji make everyone DANCE with him on beats of "Kya Karoon" song. which was a real fun.

Awards Ceremony:
Best Performance for YES full time teacher- Rachit Gandhi Ji.
Best Performance for YES part time teacher- Jusstine Shon Ji.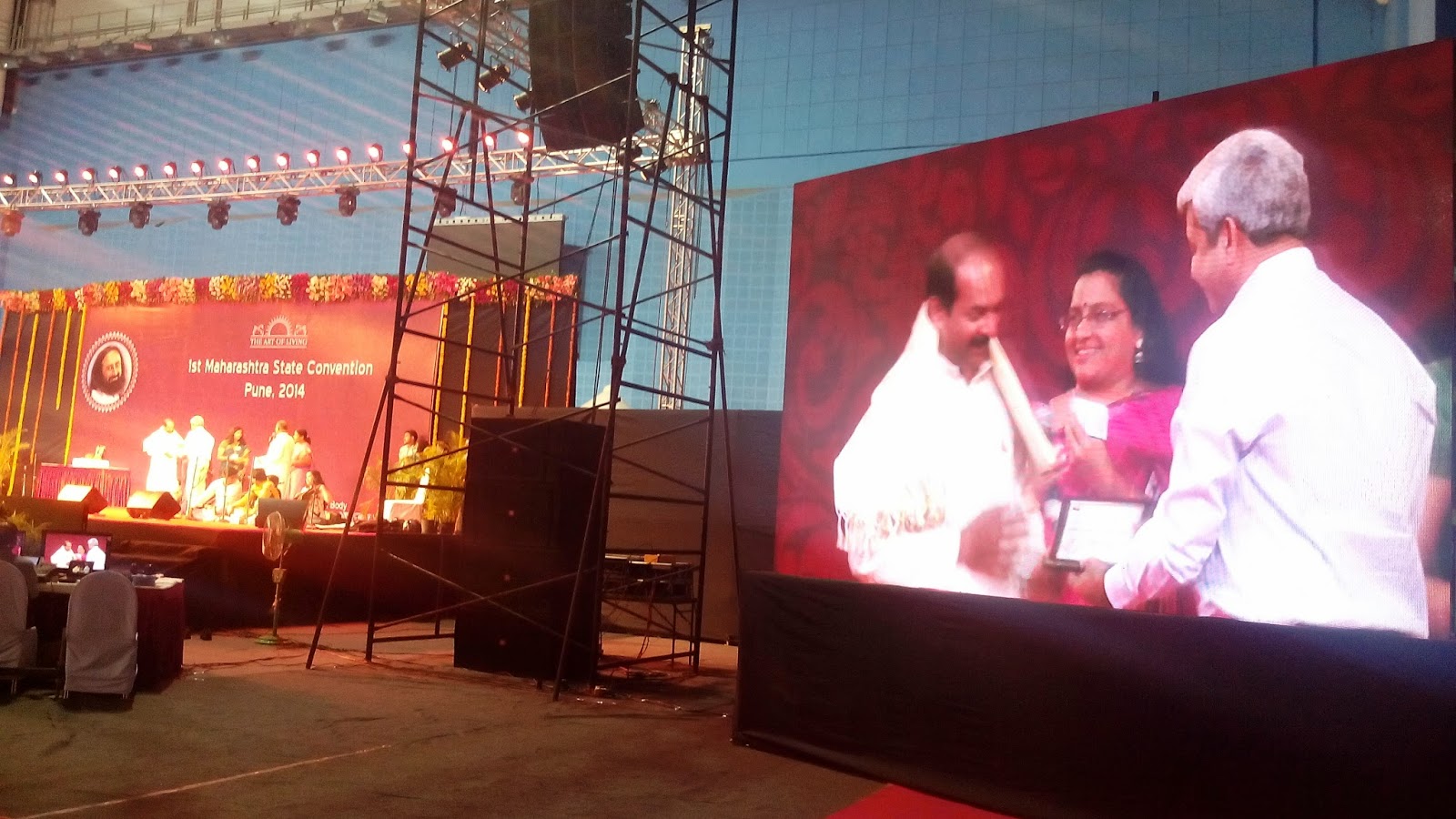 Best Performance for YES+ full time Teacher- Chirag Dada. etc..etc..
thenceforth Projects which had helped thousands of people all over Maharashtra was presented by their respective leaders.
Water Harvesting- Dr. Ranjana Borse and Dr. Anil Khadke
then projects by Madhav Pol and Makrand Jadhav and Arpit Bhaiya.
After that GaikwadJI address everybody and put up the plan of coming years, 6 lakh people should have done happiness program upto 2016, and put up all the details in crisp and request Government to support the projects.
Soon Aamdar Chandrakantji dada Patil (Minister in Maharashtra Cabinet ) addressed the public and ensured that Government will helped them whenever possible. Also he added that he will talk to respected Chief Minister of Maharashtra on this Projects. His presence makes the program more delightful.
Through Video Sangeeta Jani Ji conveyed very beautiful message that "don't stop due to criticism, Aage Badhte raho.."

Then there was an enjoyable dance performance.
and the Program got to an end with the appetizing and delicious Lunch!
With Love,
Ink Slinger #pK
Twitter: @PrasadAol
Fb: Prasad Karwa
mail me at: [email protected]
~~~~~~~~~~~~~~~~ STAY TUNED ~~~~~~~~~~~~~~~~~~