Benefits of Sudarshan Kriya (SK), Pranayama (P), and Meditation based on research.
SudarshanKriya: A rhythmic breathing process was introduced to the world by HH Sri Sri Ravi Shankar in early 1980's. Three rhythms (slow, medium and fast) of breath in cyclical fashion are preceded by three stage Pranayama andBhastrika pranayama and then Om chanting. Details have been published in various journals. Some examples being: Brown andGerbarg. The journal of alternative andcomplementary medicine 2005; 11: 189-201; Kjellgren et al. BMC complementaryand alternative medicine 2007; 7:43; Kochupillai V. Research on SudarshanKriya: book of abstracts: Conference on stress reduction skills: scientific update 30thand 31st

August 2014, IIT, New Delhi.
Published benefits of SudarshanKriya Yoga (SKY) include Psychological and Physiological benefits. Effects of SKY at molecular level have also been reported.
Psychological benefits include reduction in stress, anxiety and depression and increase in optimism. Subjects with insomnia sleep better. Anxiety related to examination reduced among students. Anxiety related to looking after patients suffering from chronic diseases reduced among care takers of dementia patients. Among subjects with post-traumatic stress disorder (PTSD), subjects experienced ameliorationof feelings of fear, neglect, abuse, rejection, depression, isolation and worthlessness.
Introduction of SKY in prisons (Prison Smart Program) showed significant reduction in violent behaviour, reduction in anxiety, anger, reactive behaviour and over all fighting. Quality of life improved. Following large scale disasters such as war in Kosovo, Bosnia, Iraq and Sudan, earth quakes in Gujarat (2000), floods in Iran, terrorism in New York world trade centre (9/11), Tsunami in South East Asia (2004) hurricane Katrina in New Orleons, SKY helped relieve stress, anxiety, insomnia, depression and symptoms related to PTSD. Many subjects have reported giving up the habit of tobacco and alcohol. Drug addicts also benefitted from SKY practice.
Physiological effects of SKY include significant decline of blood lactate levels among police trainees, who practiced SKY indicating relief of mental and physical stress compared to those who did not practice SKY.
Conversely, levels of glutathione, catalase and super oxide dismutase (SOD) significantly increased following the practice of SKY – indicating better antioxidant defence.
Antioxidants before and after SudarshanKriya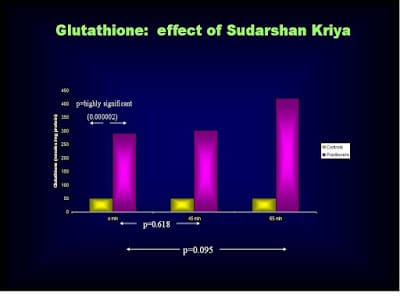 SKY affects brain function also with EEG changes indicative of a state of relaxed alertness
Resting EEG: Control Vs Practitioners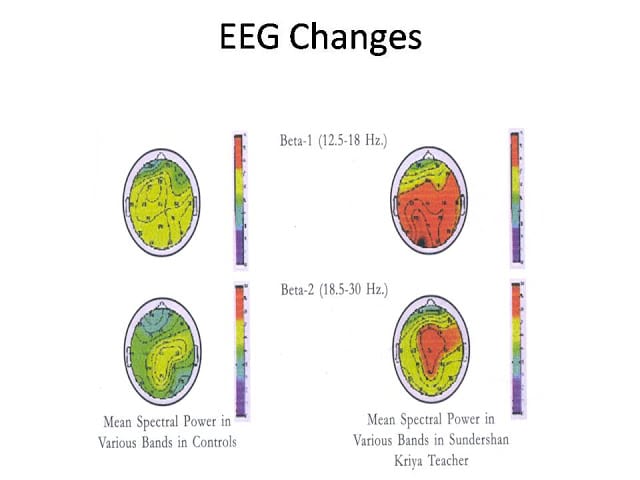 Significant increase in natural killer (NK) cells – subset of lymphocytes which protect against cancer and viral infections, among those practicing SKY has been demonstrated; Increase occurs both in normal subjects and cancer patients.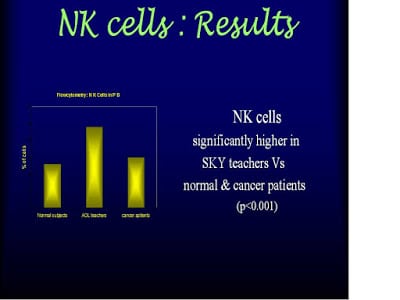 Side effects of chemotherapy reduced in breast cancer patients when they practiced SKY.
At molecular level, SKY has been shown to affect gene expression profiles in circulating immune cells. Study conducted at Norway, demonstrated gene expression changes in peripheral blood mononuclear cells within 2 hours of the practice of SKY. Authors opined

that SKY has an integral physiological component at the molecular level which is initiated immediately during practice and have the basis for long term cell biological effects of SKY. Gene expression study done at AIIMS has revealed that SKY practitioners are resistant to oxidative stress and show higher level of protection from cancer and heart disease.
From the foregoing, it can be concluded that SKY is a beneficial low cost adjunct to alleviate anxiety, depression, everyday stress, PTSD, stress related medical illness, substance abuse and rehabilitation of criminal offenders.
Credits:
Chairperson and Head of Department,
Sri Sri Institute of Advanced research (Research Division), Bangalore – 560082.
To read more about +The Art of Living : CLICK HERE
To read more about +The World Culture Festival : CLICK HERE
To read more articles on The Art of Living and related posts : CLICK HERE
Prasad